Fast hosting with a A+ rating from bitcha.com with an amazing 4.2 out of 5 stars on trust pilot and almost 400 reviews at the time of writing this review.  Amazing US based support, and an environment friendly set up!  5 data centres spread across North America and Europe.
Overview
| | |
| --- | --- |
| | |
| | |
| | Wordpress, Reseller, VPS, Dedicated |
| | Lite Speed, LSCache, HTTP/2, PHP7, CDN |
| | US 42.5, Europe 191, Avg 210.25 ms |
| | |
| | |
| | |
| | Wordpress migration,  CDN, SSL, Green hosting! |
| | 70% off all green geeks hosting plans |
Special Features
The green geeks plan is to become the top green hosting platform on the planet!  How does it plan to do this?  Well the CEO of Green Geeks was really shocked by the amount of energy that is used by hosting platforms with web sites growing every day and the need for more and more servers.  A prediction was made that by 2020 the hosting industry would have the same carbon footprint as the airline industry!  
The main issue is that the servers in the data centres are stacked on top of each other and need constant cooling.  This climate control is on 24/7 and contributes to 40% of the energy used to "power the internet".
No other hosting company out there is dining this, so how do they claim to do this?
Green geeks buy back three times the power they consume from purchasing wind energy credits that are put back on the grid!
Green geeks has now hosted over 500,000 websites!  They have been listed 4 years in a row for the fastest growing companies in the INC 5000. 
Green geeks offers a shared hosting plan with unlimited space for you web site and unlimited email accounts for your company, SSL, free domain name for the first year, daily backups and, CDN plus a 30 day money back guarantee!
Green geeks is one of the best platforms out there for developers too offering multiple PHP versions and Git pre installed!
Optimisation Speed
In house cache – power cache, combined with lite speed cache web site acceleration.  They also offer the latest network protocols such as HTTP3 & QUIC to further speed things up
A free CDN is offered through cloudflare that can be controlled through the green geeks control panel.
Data Centres
5 Data centres, 4x North America 1 x Europe (Phoenix, Chicago, Toronto, Montreal and Amsterdam)
Reliability 
99.9 % up time 
Green geeks offer a 99.9% uptime guarantee!  From what we have read in the text its a solid guarantee, of course it does not include service interruptions from client errors or DDOS, internet or cyber attacks.
Support
They know what they are doing with a management team with other 40 years experience in the field.  Customer service is great with 24/7/365 via email and chat.  Replies are pretty quick 2 with around a 1-2 minute wait time or faster.
Phone Support
Phone support is only 09:00 – Midnight EST, so if your in a different time zone this could be a problem if you prefer to speak with someone directly
Interface
Really easy to use interface to manage your hosting that is pleasing to the eye.
They use C-Pannel which is pretty much industry standard for hosting platforms which is sufficient for beginner and advanced alike.
Security
SSL is offered to secure all web site using encryption.  This is a must for anybody with a web site these days, especially if you handling transactions.
Green geeks offer what they call Clustered Security, This allows administrators at green geeks to identify any potential attacks acros their network.  They also use real time scanners to find potential malware at the kernel level, any such changed can be identified immediately and isolated.
Value for money
*If your not happy with the service you receive within 30 days you will get a full refund!  You cant say fairer that that can you!
Pros
300% Energy offset scheme
Powerful shared hosting
SSD storage
Wordpress & VPS hosting
Amazing value for money
US based Support team
Best value for money on the market
Cons
No data centre in Asia or Australia
No phone support, however they are quick to respond to chat support
Conclusion 
Great prices, a range of products, plenty of freebies, solid platform and top support.  Green geeks should be at the top of the list for any small to medium size web sites and especially those that like to consider there carbon foot print!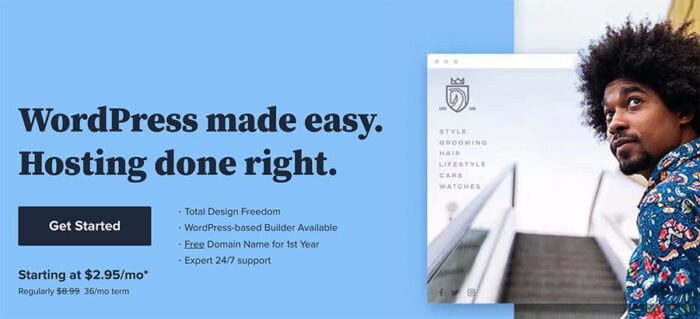 A+ rating from Bitcha.com (But only in the USA, rest of the world speeds are quite slow), Only 3 stars out of 5 on trust pilot, from over 1700 reviews! 
Blue host have been around for some time now, they started business all the way back in 2003! With that experience they have know a thing or two about hosting.  Surprisingly they only have 1 data centre that is hosted in the USA.  They have 2 million + hosted web sites. The company has over 750 employees, and is one of the 3 hosting platforms that is recommended by wordpress!  That stands for a lot considering that 30% of web sites in the WORLD are wordpress!
overview
| | |
| --- | --- |
| | |
| | Best for beginner and UX users in the USA |
| | Wordpress, Reseller, VPS, Dedicated |
| | PHP7, HTTP/2, NGINX+ Cache, CDN, fast SSD drives!  |
| | US 50.5ms, Europe 183ms,  Avg 158 ms |
| | |
| | |
| | |
| | Free domain name, $150 of google ads credits, officially recommend by wordpress! |
| | Up to 65% off all hosting plans |
Special Features
One of the few platforms that is actually endorsed by Wordpress!
A one stop shop for small business.  Amazing value
Host of freebies are included in the plans such as free CDN (with free Integrated cloudfare support) Free domain for the 1st year and SSL (even on the basic package)!
optomisation Speed
With only one data centre we assumed the speed would be quite slow, and speed matters when we are talking about rankings and SEO!  However the speed is excellent, obviously its faster in the USA. Google's recommendation is 200ms and they have easily achieved thi
Blue host is great for large scale e commerce web sites due to there high performing servers and tight regulations.  They fewer users per server and set a limit on the amount of files per user to 300,000.  However the high performance servers are only available with the pro version!  This is quite a bit more expensive than the standard version!
DATA CENTRES
Only 1! located in the USA
Reliability
Uptime since 2017 99.97%!! However blue host don't offer an uptime guarantee, this is a little disappointing they are obviously not committed to put there money where there reliability is!  With stats like they have we dont understand why they would not back that up?
Support 
Comes in the form of chat, email and call and is 24/7/365, however we have discovered that this is outsourced support which is well, not the best shall we say!  Therefore if you are a newbie blue host may not be your best choice as there won't be anyone skilled to hold you hand should you run to issues!
Interface
Very user friendly interface, the interface starts with some simple questions when you first login, like a setup wizard.  Once you complete these questions your hosting will be set up in moments.  Making it a great choice for a first time user.  The control panel is from Cpannel and it's customisable!
Security
Blue host comes with some great security features such as Code Guard which is a tool used to back up your data and monitor your website & databases.  The basic version has 1GB of storage and you can restore from 3 months back.  Spam Experts, this is an advanced email filter service.  The filter will scan for spam, viruses, phishing, Blue host say it has 99.98% accuracy!  Very impressive.  Finally we have Site Lock which is there firewall which can help with malware removal, DDOS protection and image optimisation.  There are 3 levels available Essential, prevent and prevent plus.  The problem is site lock is an add on, so its not free!
Value for money
Shared hosting that comes in 4 flavours; basic, plus, choice plus & pro!
VPS (virtual Private Server) comes in 3 flavours Standard, Enhanced and Ultimate. A VPS account will allow for dedicated resources to your account.
There VIP package is a dedicated server package which comes at the premium of between $73.99 & $108.99.
pros
Unmetered bandwidth

Free site migration
Free domain
24×7-US-based support
cons
Only one data centre (US)
No uptime guarantee
Conclusion
Fast service for users in the USA, great uptime statistics although no guarantee!  Blue host is good for beginners & Ux users based in the USA.  If your looking to host a simple web site they are well worth considering.
Kinsta web hosting
Launched in 2013 with wordpress hosting in mind, Kinsta is one of the wordpress hosting leaders in europe and the USA.
Impressive management tools and a great UX, Kinsta is super quick and offers everything you would expect from a cloud based host.  Great for resellers and companies with multiple websites, however its not the cheapest!
OVERVIEW
| | |
| --- | --- |
| | |
| | Best for Medium to Large Business |
| | Managed Wordpress & Reseller |
| | Nginx, PHP 8.0, LXD software containers, MariaDB, Google cloud platform |
| | US 112.5 ms, Europe 11.5 ms,  World Avg 179.5 ms |
| | 28 google cloud global locations |
| | |
| | |
| | Free CDN & SSL, unlimited migrations, Google cloud servers, |
| | Try Kinsta for free for 30 Days |
Special Features
Kinsta offers its hosting via google cloud rather than a single data centre!  How is this done?  Kinsta hosting is presented virtually through a complex network of servers located in a multiple worldwide locations.  This gives the advantage of speed, reliability, scalability and flexibility.
The google cloud servers are located in 28 world wide locations (and counting), so you can choose your preferred location that would serve your clients better, Pretty cool!
Optimisation Speed
Its super fast, especially in Europe.  Google recommended a response time of under 200ms, London has 10ms! Very impressive!! Some other locations like Asia and Australia didn't fair so well however!
Paired with the correct optimisation tools clients can expect great impressive load times with Kinsta.
The configuration comes complete with speed enhancing technologies such as Nginx, PHP 7, HTTP/2, and IPv6.
Kinsta offers an excellent free CDN service from key CDN.  Key CDN is a leading European CDN provider with its head office in Switzerland which is bang in the centre of mainland Europe.
data centres
A whopping 28 data centres world wide!!!  They have data centres in almost every content!
Reliability
Up time guaranteed 99.9%, well thats not to be sniffed at!  99.9% uptime has been achieved since 2018 as a statistic.  If these uptimes are not held you will actually gain a credit, we like that..big thumbs up.
Support 
Kinsta has one of the best support teams in the market!  The team comprises of experienced Wordpress and linux hosting engineers.  The skill level of there guys is incredible! 
24/7 support via live chat and ticket solution.
Interface
Creating an account with Kinsta is really smooth and easy, once signed up you will be presented with the dashboard which has all the bells and whistles required to set up and enhance you Wordpress solution.
Each kinsta plan includes unlimited free migration(s) from your existing platform(s) which removes some of the headache for you to migrate easily to their platform.
There are plenty of tools to choose from too such as backups, SSL , monitoring, automatic updates and DNS of course.
The platform is really good for e-commerce sites which can be quite demanding on Wordpress with all the plugins, images, and product pages required.
Kinsta offer a demo via there web site also, click on the video to take a look.
Security
Kinsta offer a security guarantee!  This means that if you get hacked, they promise to work with you for free to repair the damage!!
Kinsta also offers lots of tools to keep your site secure such as backups, SSL, firewalls and automatic updates.
They also offer 4 DNS servers, unlike most providers that only offer 2!
Value for money
They are a little on the pricy side!  Prices start at 30$ for a single Wordpress web site.
+++ There are 8 plans in-between, all are focused on multiple Wordpress sites.+++
From:
To:
Enterprise – 150 Wordpress Sites, 3 Million Visits, 250Gb disk space, SSL & CDN – $1500 per month
Pros 
Fast level caching for extra speed, and loads of server options should you out grow your plan!  There are a total of ten plans to choose from!
Reliability with its 99.9% uptime guarantee.
Awesome tech support team
Great for medium to large organisations or companies with multiple web sites
Cons
No email
no telephone support
little on the pricy side
Conclusion
Expensive hosting for a small business! No email could be a turn off for some! 
However with servers all over the world including Australia, Brazil, and Asia this can be attractive for for larger businesses, especially if you have an e-commerce web site or a medium to large size web site!  
A2 web hosting
A2 hosting is super fast, they have a turbo cache that can boost site speed by a whooping 20x!!!  They are great for hosting multiple sites with one account. Plus there is Free SSL, and free site migrations, loads of plan options all at a really good price.
overview
| | |
| --- | --- |
| | |
| | Best for multiple web sites |
| | Wordpress, Reseller, Shared, dedicated, VPS |
| | LiteSpeed Turbo Servers, A2 Site Accelerator (TurboCache, OPcache/APC, Memcache), HTTP/2, PHP7 & Cloudflare CDN |
| | US 36.5 ms, Europe 119.5 ms,  World Avg 149.8 ms |
| | 1x E-US, 1x W-US, 1x Amsterdam EU, 1x Singapore Asia |
| | |
| | |
| | Anycast DNS. Dedicated IP address. Free site migration. Built-in staging |
| | from $2.99 per month hosting, plus up to 72% off all other plans |
Special Features
A2 offer there proprietary cacheing that i supposed to speed up your site by up to 20x!
Unlimited sites, unlimited email addresses, transfers, storage, you name it there is no limit!!!
optimisation Speed
Hosting turbo plan comes with turbo servers!  Sounds fast right? It is, up to 20x faster actually!  How do they do it? They limit the amount of users per server.  All of the A2 plans come with SSD storage which of course speeds things up massively!  (SSD drives are upto 30% faster than regular storage drives).
Data Centres
4 data centres,  two in the USA, 1 in Singapore Asia & 1 in Amsterdam Europe.  That pretty much covers most continents!
Reliability
99.9% uptime guaranteed!  We like this alot, if you site has down time for more than 0.1 % of the total time per month you will be credited 5% of the amount paid per month for every hour your site is down!  (This does not apply to DDOS attacks and ISP problems of course).
Support 
One of the best support teams in the business!  They have even called themselves the "Gurus".  This is so invaluable to have a solid support team, and A2 are aware of this.  Faults are resolved quickly and with a friendly manner. Support available 24/7/365
Interface
The interface is really sleek and easy to use, everything is where you expect it to be its really intuitive.  One of the best, hands down!
The A2 software comes with lots of extra software for tuning your web site, a lot of the tuning can be set up automatically to give your site the best results possible!
They claim to run wordpress sites upto 6x faster than the competitors!
Security
A2 offers a whole multitude of security options to protect client web sites and servers.  Such as Hark Scan which works to block attacks, Kernal Care which makes your kernal has the most up to date software patchs, virus scanning, firewalls you name it A2 have it!
Value for money
4 plans available Startup, Drive, Turbo & Turbo Boost.  Prices start at $2.99 up to $12.99 for wordpress hosting 

VPS comes as managed or unmanned packages ranging from $4.99 to $59.99 
If you looking for speed you need to calculate if its worth the extra cash!
pros
Great for the security conscious
Fantastic for wordpress, e-commerce or a blog
works well with high traffic web sites.
Any time money back guarantee
99.9% uptime guarantee
Free web site migrations
cons
Only the turbo plan comes with 20x faster servers!  not all plans!
Fee if you want to move your server to a different data centre
Support can be a little slow
Conclusion
Support although knowledgeable can be a little slow!  They are not the fastest hosting but they are quick! What they lack in speed they make up for in features and convenience.
There 1 click optimisation software is awesome.
Price wise they are pretty good against the competitions.
If you want a fast hosting plan for multiple web sites with an email plan, A2 is a great choice!
Site ground web hosting
Fantastic host with many features and excellent performance.  Site ground began in 2004 with some university friends in Bulgaria.  Today it's one of the market leaders in the hosting industry with 6 data centres, they have hosted over 2 million web sites to date!
A Wordpress recommended hosting platform plus a Great support team with fantastic work ethics.
| | |
| --- | --- |
| | |
| | |
| | Wordpress, Reseller, VPS, Cloud |
| | Ultrafast PHP, PHP7, HTTP/2 and NGINX + SuperCacher caching. CloudFlare CDN |
| | US 29.5 ms, Europe 100.5 ms,  World Avg 129.8 ms |
| | 1x E-US, 1x W-US, 1xLondon, 1x São Paulo, 1x Canada, 1x Germany, x1 Amsterdam, x1 Singapore, x1 Sydney |
| | |
| | |
| | On-demand backups. Staging + Git. White label re seller program, CDN |
| | upto 67% discount on all monthly shared hosting plans |
Special Features
Its not just green geeks that are green! Site ground ground have also followed suit!  This means they use electricity from green sources e.g. wind, solar etc, good job Site ground.
Quick response times world wide!
optimisation Speed
Site ground has cutting edge SSD hard drives, these load up to 40% faster than a classic HHD drive.  As Site ground uses the google cloud network which is super fast there hosted sites are therefore also super fast.
Enhanced software such as PHP, cloudfare and super cache!
Reliability
 There data is stored on the google network which offers great redundancy.  If a node fails with your web site data on it, they will be able to instantly create a virtual machine somewhere else in there network, pretty cool hey!
Support 
24 / 7 Support, and thats 24/7 phone support too!! One of the few hosting companies to offer this!  The team is extremely capable, all member of the team are required to undergo site ground training!
There is also a fantastic knowlge base on the web site.
Interface
Site ground have done away with cpannel (which is adopted by almost all hosting platforms) and built there own!  And its actually pretty dam good.  Its been designed with to be easy to use, and it is, its very logical and works perfectly.
Security
Site ground have a number of systems in place to ensure clients web sites are as secure as possible.
Smart WAF, Site ground have a dedicated security team that are watching out for potential breaches and threats
AI Antibot, A smart AI system that is in force to block malicious traffic.
24/7 system monitoring, there unique monitoring system that checks every half second for signals of trouble.
Backups distributed over the network in different locations in case of a disaster.
HTTP/2 technology, all servers support HTTP/2 which is the most secure version of the protocol.
Free SSL, Free for all accounts.
web application firewall (WAF), All clients are protected by the free site ground firewall which is regularly updated.
Value for money
Site ground offer hosting for wordpress and non wordpress platforms at a pretty competitive price.  They also have cloud hosting *******
pros
One of the Wordpress trusted host platforms
24/7 phone support
Server locations all over the world
Green web hosting
Great prices
cons
There are limited resources with there shared hosting options! 10GB with the starter plan, 20GB for the grow big plan and 40GB for the go geek plan!
 
Conclusion
With out a doubt one of the best hosting platforms on the market today in 2021.  Site ground suits users from small to large web sites on a range of platforms; Magneto, wordpress, Presta shop, joomla, Drupal.
Fantastic web tools, server speeds, and with servers on almost all contents let a alone there 24/7 phone support they are with out a doubt a great choice.
For advice on web hosting or web design services please dont hesitate to reach out to us today.